Custom Electrics
Click on images to view hi-res photos.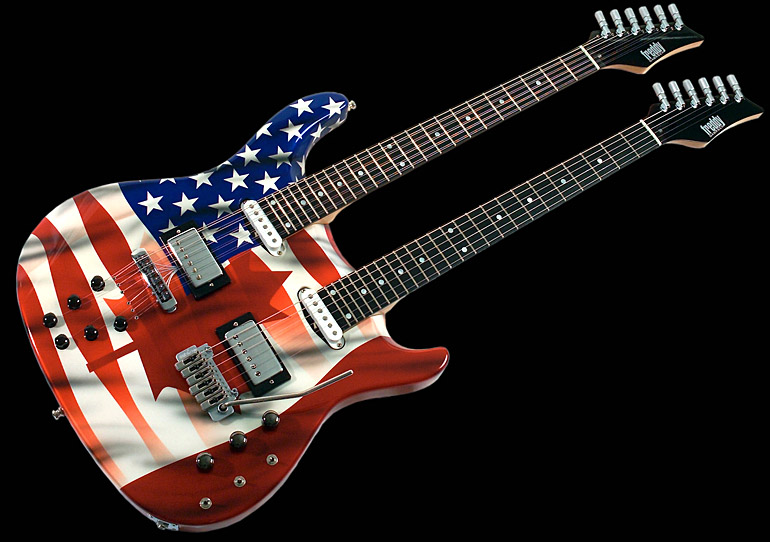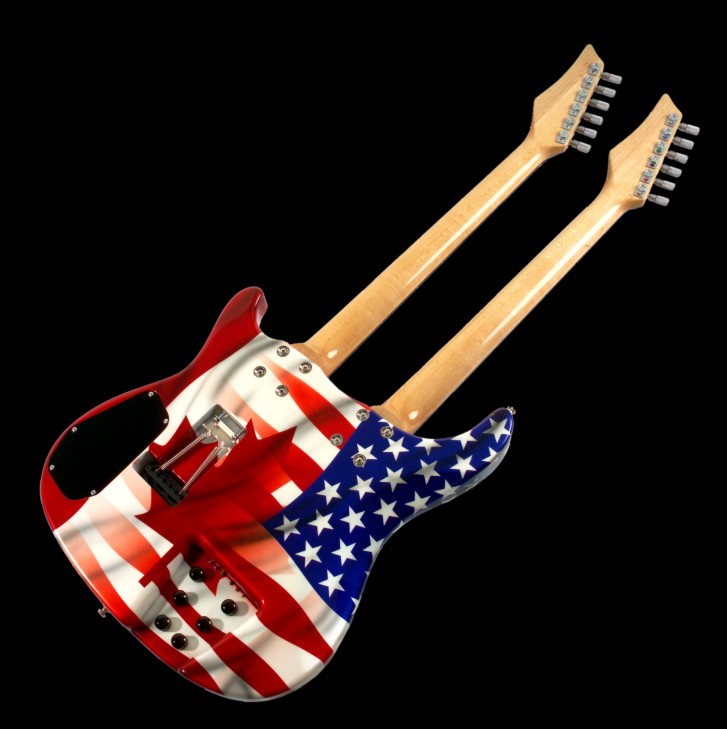 A custom 6-12 string doubleneck guitar. The body is made from ultra light Paulownia with quartersawm rock maple necks and ebony fingerboards. Hardware includes Gibson PAF humbuckers, Lindy Fralin single coils, a custom made piezo transducer bridge for the 12 string thanks to Lee at Graph Tech, LSR tuners for the pegheads, Steinberger tuners for the octave strings and a Wilkinson tremolo bridge for the 6 string.


<![if !supportLineBreakNewLine]>
<![endif]>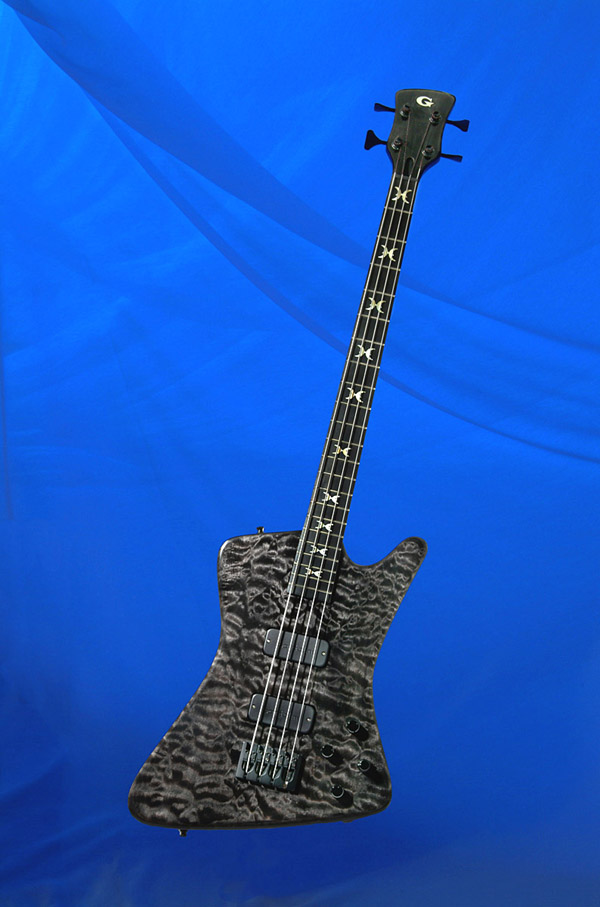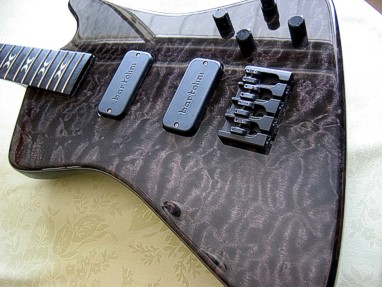 A custom 4 string bass made for goth-rocker Stephane Debernardi. The body is made from a single, stunningly beautiful piece of solid quilted maple. Scale length is 34 1/2". The neck is made from a single piece of quartersawn rock maple and glued into the body using a mortise and tenon joint. The neck is also re-enforced with 2 carbon fibre rods and is equipped with a two-way truss rod. Click here to view pictures of the construction process.

<![if !supportLineBreakNewLine]>
<![endif]>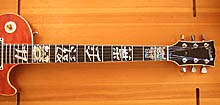 A custom ordered Les Paul. 8 lbs. 14 oz., Seymour Duncans, Tonepros bridge and tailpiece, Honduras mahogany body and neck with a quilted maple top, ebony peghead overlay, jumbo frets and a custom inlay on an ebony fingerboard.

<![if !supportLineBreakNewLine]>
<![endif]>

A custom paint job on a tele body by artist Bea Campbell. I painted the body black, then brought it to Bea and said "do whatever you want" so she came up with this stunning "pointillism" art scheme using silver and gold metallic pens. When I got the guitar back I sealed everything with clear coats...a real showstopper, beautiful!

<![if !supportLineBreakNewLine]>
<![endif]>

This is a refinish of a Jackson King V done in a winter camo paint scheme.

<![if !supportLineBreakNewLine]>
<![endif]>

A custom tele with an ultra-light 1 piece swamp ash body, flamed/birdseye maple neck, Seymour Duncan pickups and a tobacco sunburst in Nitro lacquer.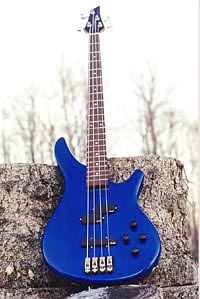 A custom 4-String bass. Features include a solid maple body in a trans-blue finish, quartersawn rock maple neck and Indian rosewood fingerboard. 2-Tek bridge and EMG electronics...awesome tone!
Dragon Custom
A custom order, the neck and body are of quartersawn korina, with a quilted maple top. Ebony is used for the fingerboard, and the neck is re-enforced with carbon fibre. Hardware includes active pickups, Wilkinson powerbridge and an electronic tuner with it's digital display inlayed in the neck.
Dragon inlay of red abalone heart,white, gold and sunburst mother of pearl.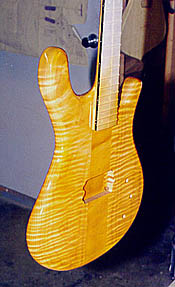 A custom ordered 4 string bass in the finishing process. Neck thru construction with curly maple "wings".

Replica of "Prince guitar". Neck-thru construction,hand carved maple, electric blue finish. EMG pickups.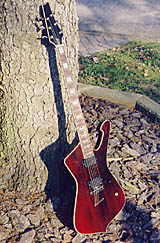 Custom ordered baritone scale guitar. Mahogany body and neck, rosewood fingerboard. Mother of Pearl block inlays, piezo saddle transducers, string thru design and a mortise and tenon set neck joint.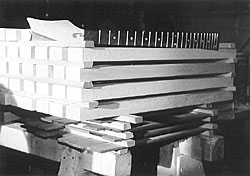 Neck blanks and fingerboards are stickered for a small production run of six string electric guitars.